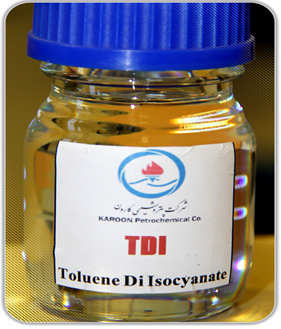 Toluene diisocyanate (TDI) is an organic compound with the formula CH3C6H3 (NCO) 2 and a member of Isocyanates, which is chemically related to polyurethanes. To sensitize TDI, 2, 4-TDI is prepared in three steps from toluene via dinitrotoluene and 2,4-diaminotoluene (TDA). Finally, the TDA is subjected to phosgenation, i.e., treatment with phosgene to form TDI.
This final step produces HCl as a byproduct and is a major source of industrial hydrochloric acid. TDA, in turn, reacts with carbonyl dichloride (CDC) to produce toluene diisocyanate (TDI). Toluene diisocyanate produced in Karun is an 80/20 mixture of 2,4-TDI (CAS: 584-84-9) and 2,6-TDI (CAS: 91-08-7) isomers with purity of at least 99.5%.
Applications of Toluene Diisocyanate (TDI)
TDI has wide variety of applications which range from furniture industry, bedding and carpets underlay to transportation equipment and packaging industries. The substance is also used in the production of surface coatings, sealants, adhesives and elastomers.